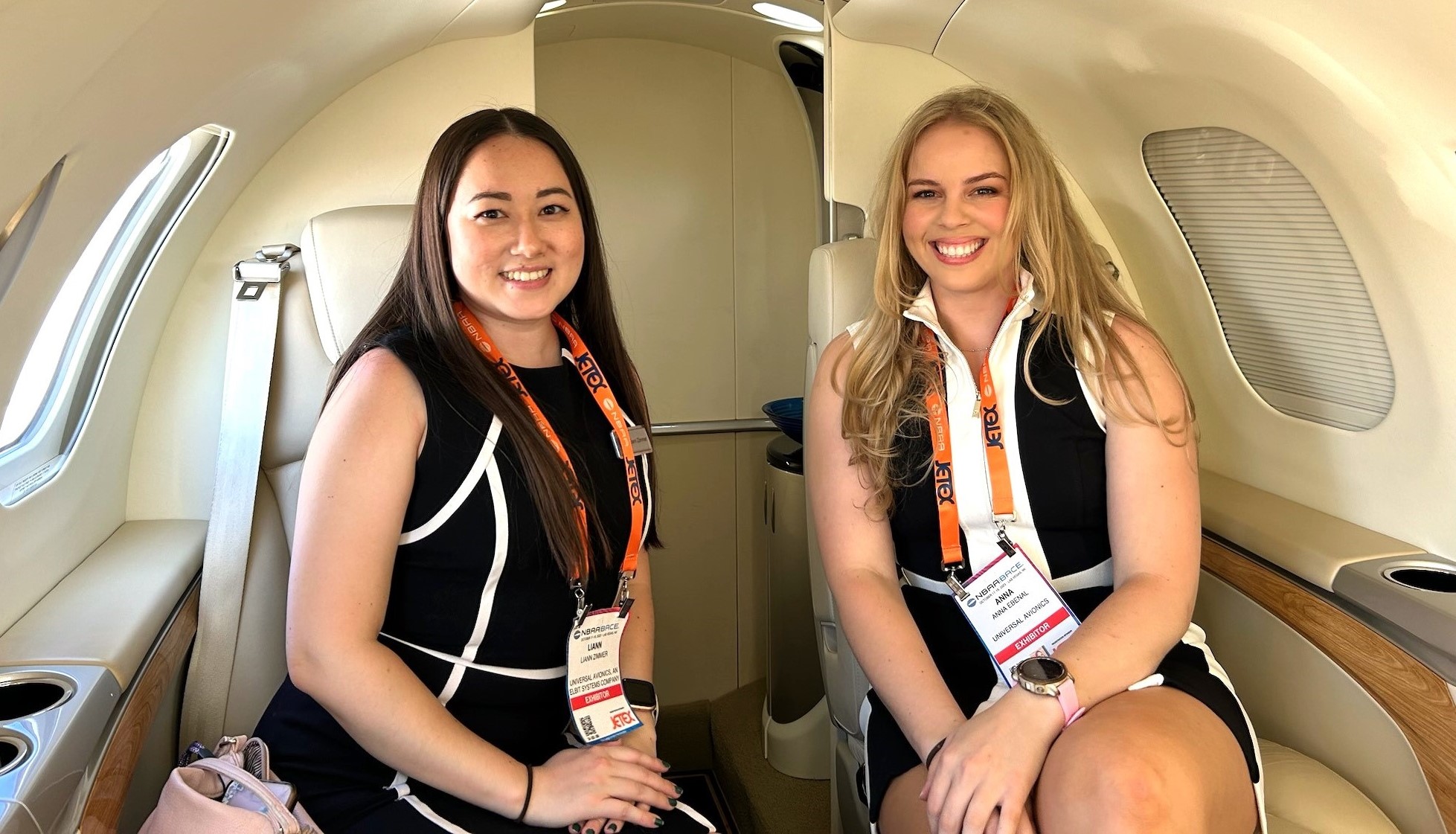 The 2023 NBAA Business Aviation Convention and Exhibition (NBAA-BACE) wrapped up a remarkable week in Las Vegas, NV, not only creating a memorable experience for a first-time attendee but making its mark as one of the most exceptional events this year.
My name is Anna Ebenal, and I am currently serving as an intern at Universal Avionics. My journey into the aviation realm began over the summer while I proudly obtained my master's degree in marketing from the esteemed University of Arizona. While I may be a newcomer to the aviation industry, my introduction was nothing short of spectacular, marked by my inaugural attendance at NBAA-BACE.
The immersion into the aviation industry has been an eye-opening odyssey, showcasing its vastness and complexity. Each day unfolds with new challenges and fresh experiences, and among the myriad moments, NBAA-BACE 2023 stands out as a personal favorite. As you continue to read, you will explore this remarkable event through a lens of curiosity and fresh perspectives.
NBAA-BACE: The Largest Business Aviation Event of the Year
The National Business Aviation Association (NBAA) was established in 1947 and has continued to support the aviation industry by actively seeking enhancements in air travel, weather reporting, communication systems, business aviation recognition, and much more. This year marked the 76th annual Business Aviation Convention and Exhibition (BACE). New City, NY was host to the first ever event and home to the origins of the association. Over time, the event has evolved into a prominent fixture on the aviation calendar, hosting its annual event in either Las Vegas, NV or Orlando, FL.
This year's event drew approximately 800 exhibitors and nearly 20,000 enthusiastic attendees. The magnetic appeal of this gathering seems to stem from its exceptional versatility – a true one-stop destination. Attendees converge here for a magnitude of purposes, be it sourcing information about imminent upgrades, establishing and nurturing relationships with existing networks, or simply satisfying their curiosity.
Attendees may initially be drawn to other vendors but inadvertently find themselves journeying into unanticipated booths, where they unearth innovative solutions to meet their avionics needs. This revelation often results in attendees realizing our offerings are precisely what they need, even if they were previously unaware of such an option. This is where exhibitors like Universal Avionics reap the rich rewards of event participation.
Universal Avionics' booth buzzed many lively discussions throughout the duration of NBAA-BACE 2023!
First Impressions of Business Aviation
As I crossed the threshold of the convention center, my gaze was immediately drawn in every direction. The imposing presence of autonomous aircraft on display and flow of attendees in every conceivable direction, painted a vivid portrait of the future encapsulated within the confines of a colossal building. Each cavernous hall teemed with enthusiastic vendors, creating a lively hum of aviation discussions echoing through the aisles as I navigated the bustling space. What could not escape my notice was the abundance of branded merchandise which seemed to materialize at every turn, strategically placed by eager vendors to entice a lingering glance, initiating meaningful conversations at the drop of a hat or the click of a pen.
The future of flight takes center stage showcasing autonomous aircraft around every corner!
My Favorite Aspect of NBAA-BACE 2023
It is a realm dedicated to immersive customer engagement. Every participant had the unique privilege of partaking in keynote addresses, indulging in a diverse array of captivating demonstrations, or engaging in enlightening conversations with seasoned experts at each vendor's booth. My own journey was further enriched by the enthralling experience of the static display at Henderson Airport. This facet of the event held a special place in my heart, as it allowed me to step in and out of exquisite business jets while engaging in spirited conversation encompassing every facet of these remarkable aircraft, from the avionics to the window shades. The presence of private viewing parties lent an air of exclusivity, transforming the entire experience into a truly exceptional occasion.
NBAA-BACE served as an extraordinary platform for me to behold the truly exceptional feats achieved by our unwavering and highly skilled workforce across departments to make any of this possible. It is a rewarding experience to watch a company such as Universal Avionics come to life and meet the unique needs of our customers right in front of my very eyes. Passion lingers down every hall, workstation, and office across Universal's global locations and I experienced nothing short of that very passion in the booth at NBAA-BACE.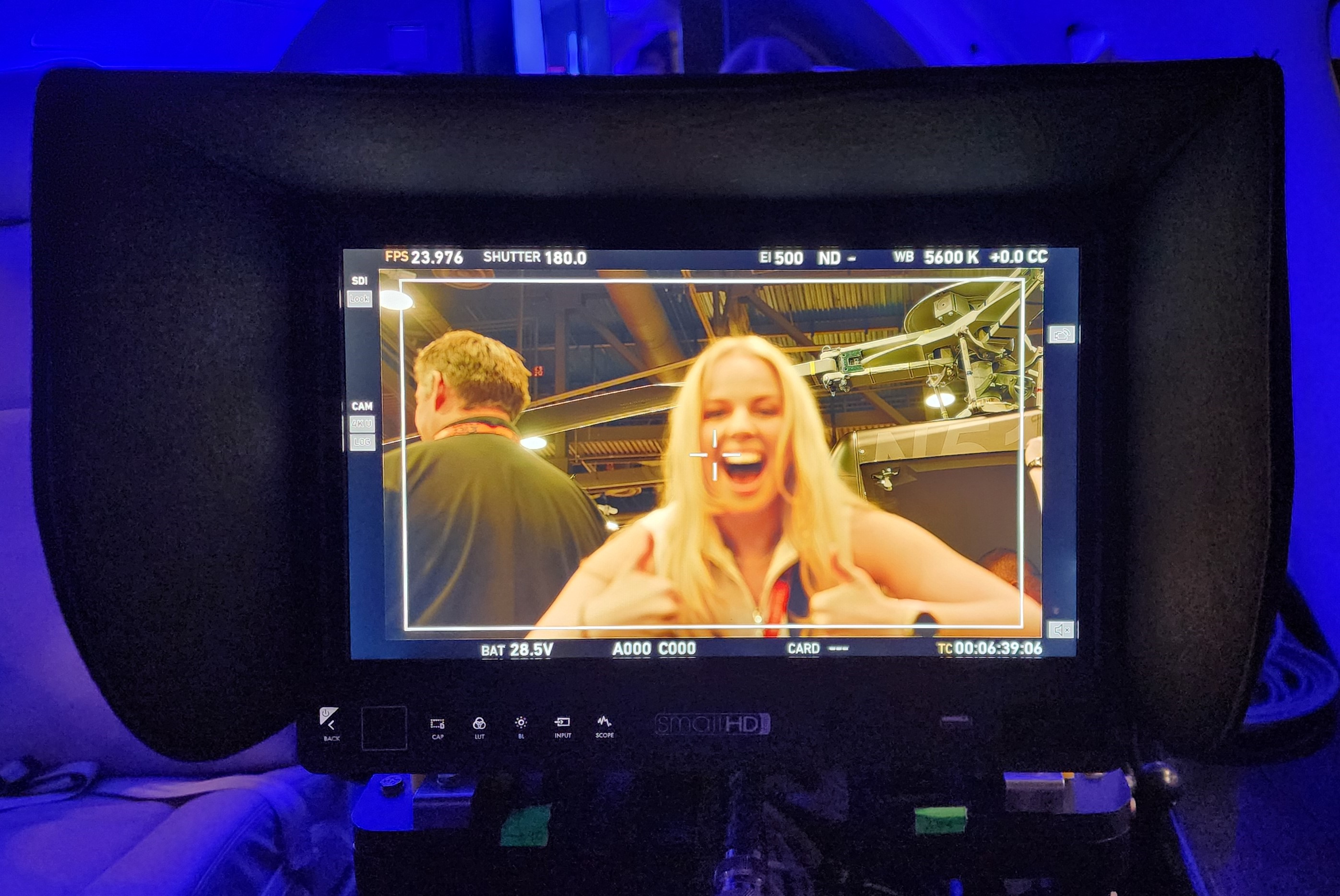 Anna standing in front of a jet and appearing on a monitor inside another jet. These jets were to help film the movie "Top Gun: Maverick"!
Key Takeaways from NBAA-BACE 2023
NBAA-BACE stands as the preeminent destination for staying informed of the most recent strides in the realm of business aviation and actively engaging in conversations propelling the industry forward. Key takeaways encompass:
Cutting-Edge Insights: Gain access to the forefront of business aviation developments, equipping you with the latest trends, technologies, and strategies shaping the industry's future.
Innovative Discussions: Immerse yourself in dialogue with industry leaders, experts, and enthusiasts, fostering a rich understanding of pivotal issues and potential breakthroughs.
Networking Excellence: Forge invaluable connections and partnerships with fellow professionals, opening doors to collaborative opportunities and strategic alliances.
Enhanced Knowledge: Expand your comprehension of aviation regulations, safety standards, sustainability initiatives, and technological advancements, ensuring you remain at the forefront of industry knowledge.
Inspiration and Progress: Be inspired by the industry's collective passion and dedication and play an active role in advancing the aviation landscape. Participation fuels the momentum of progress.
In essence, NBAA-BACE is the epicenter of business aviation, offering a comprehensive platform for both learning and contributing to the industry's growth and evolution.
Anna taking a photo opportunity to seize the day through a camera lens at NBAA-BACE 2023
Why You Should Attend NBAA-BACE 2024
Would I go back? Absolutely, if NBAA-BACE 2024 were to echo the exceptional caliber of NBAA-BACE 2023, my enthusiasm for attending would remain undiminished. The prospect of encountering cutting-edge technology, being enlightened by fresh perspectives from keynote speakers, and filling my tote with swag from neighboring booths while creating invaluable networking opportunities.
What sets this event apart and renders it extraordinary is its unwavering dedication to the aviation industry. Regardless of the specific elements varying from year to year, the resounding passion for aviation that radiates from every facet of this event remains its timeless hallmark. This commitment to excellence and innovation is what truly distinguishes NBAA-BACE as a premier fixture in the aviation calendar.